Taiwan has a long history and love of Italian motorscooters.
The first Vespa scooter was imported into Taiwan in 1956, and the popularity of Italian scooters grew along with Taiwan's economic development until in 1963 the island country began its production of Vespas at its own factory under license from Piaggio. Lambretta scooters followed Vespa's rear wheel and began production at their own local factory in 1967. The next year a third factory was opened to produce Vespas, but its ownership and licencing was completely separate from the first factory and it differed in the types of Vespa models it pumped out. The first factory produced 'Way Sure Pie' a phonetic translation of Vespa into Chinese and the second factory produced 'Bee Yah Joe', Piaggio. Bajaj became the last competitor to enter the market in 1971 with their 'Bye Gee Fah'.
Through the 1970's Taiwan's boom economy was at a level where the average family could afford a scooter or two for its daily transportation needs. This was the heyday of Italian scooters in Taiwan with the streets a swarming hive of Italian scooters. But then came the emergence of plastic scooters from Japan in the early1980's. Although grateful to the durability and beauty of Italian scooters, the Taiwanese saw the newer plastic models as something new, fashionable, and even more economical. Factories for these scooters also began producing on the island, and the tidal wave of plastic grew to a point in the late 1980's where Italian scooters had lost their popularity and were ridden mainly as small company workhorses or by those who still had faith in the Italian style. By the mid1990's a Vespa had become an "old man's" scooter, and most of the Italian scooters that had been imported or locally produced up to that point were either shipped mostly to African countries for their daily transportation needs, or else sent to the scrap yards to provide metal for Taiwan's expanding infrastructure. There is a man somewhere in the middle of Mozambique riding his Rally 200 everyday that was originally imported into Taiwan.
Eastern cultures have a love of the Lotus flower because it is a creature of stunning beauty that grows from a stinking muck. And likewise, from the mire of plastic scooters in Taiwan, a group of those faithful to the classic Italian style and the quality of Italian scooters grew throughout the 1990's.
It began with four scooter enthusiasts from four different parts of the island who kept in contact while looking for vintage scooters and parts for their collections. Their friends caught on, and in 1996 the Vespa Club of Taiwan kick-started into action. Through media coverage, exposure at rallies, and a change in Taiwan's culture in which antique and imported became more "hip", the club steadily grew like the curve of a front legshield. Presently the club has a membership of over 215 scooterists with ages ranging from 17 to 70, and has become a mode of promoting and preserving a part of Taiwan's culture that was otherwise heading toward extinction.
With such a long history of scooters and with master scooter mechanics at every neighborhood repair garage, one might assume that technical engine and accessory modifications would also have a long history and be easily undertaken at the local shop. However, modified is a new concept in Taiwan when it comes to Italian scooters. The founding member of the VCOT, Christopher Yang, saw this discrepancy between history and potential. In order to provide a way for its members to fulfill every aspect of their dream scooter, whether in performance tuning or accessorizing, he opened a shop to import original and performance parts from Europe. Although Italian scooters have been around for over fifty years in Taiwan, people on the street now ask VCOT members what brand of 'new' scooter they are riding.
The VCOT holds rallies at least once a month, and Vespa Day is celebrated annually on or near September 20th with a nation-wide two day rally. Last year's event attracted over 120 members with 70 fully restored scooters. The club keeps in contact with all its members through an extensive website (vespa.com.tw). The site is in Chinese with an English version planned, but holds a wealth of pictures of the club's activities.
A major milestone was achieved for the VCOT this march with acceptance into the Federation Internationale Des Vespa Clubs. This international recognition is well deserved for a country which has celebrated over fifty years of local Vespa history and which has produced over a million Vespas of its own. Taiwan has one remaining Vespa factory producing ET4 models (although they have been renamed ET8's because four is considered unlucky in Chinese culture) for a small but faithful slice of the local scooter market. And the Vespa Club of Taiwan continues to grow, allowing Taiwanese scooter enthusiasts to express their personal scooting freedom, and showing that the inherent beauty of Italian scooters will never fade away.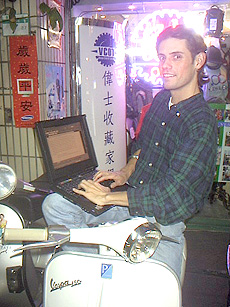 VCOT member 69, Jakson Hoyt
April 7, 2001 @ the Vespa Club of Taiwan Workshop in Taipei, Taiwan
Scooters, Computers, and Freedom. Long Live Taiwan!